Poor Amy Adams this year the acclaimed star of Nocturnal Animals and Arrival failed to get a nomination. Nobody expected it, least of all Vanity Fair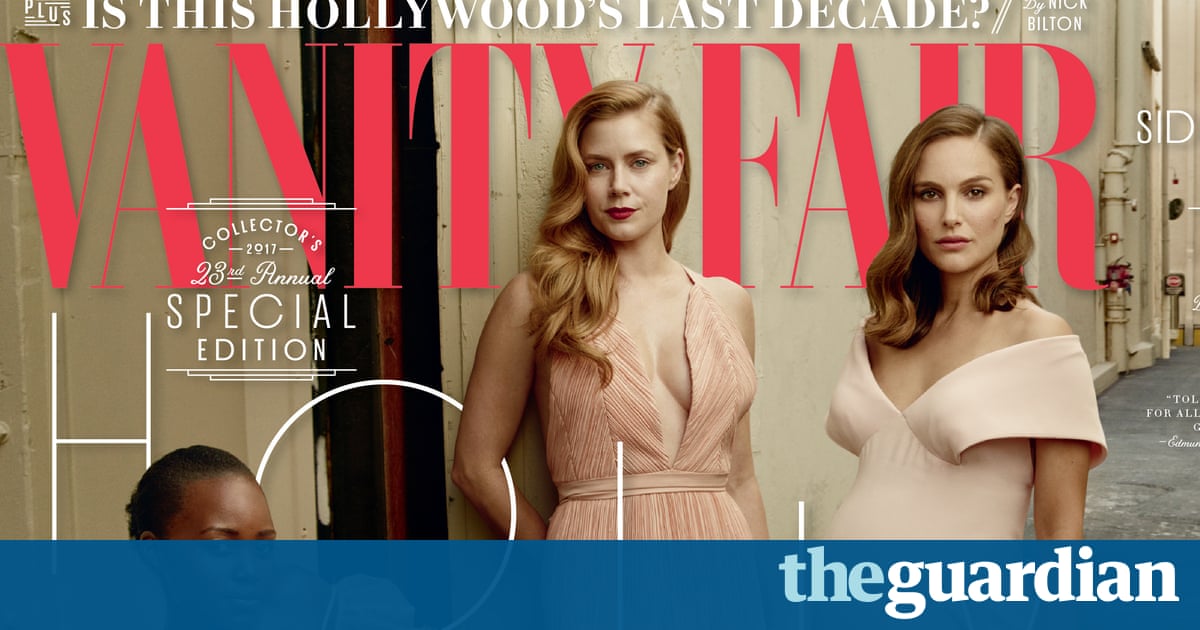 The Vanity Fair Hollywood issue has become a grand tradition: a shimming high point of the annual awards season, when the years hottest screen talents hop off the gruelling promotional schedule thats come to dictate their every move and wallow in an afternoon of unbridled glamour. If you appear on the cover of the Vanity Fair Hollywood issue, you know youve made it. If you appear on the cover of the Vanity Fair Hollywood issue dressed as the novelty pepper mill you got in the office Secret Santa as Diane Keaton did last year then you know youve really made it.
At first, the cover of the 2017 Hollywood issue looks like business as usual. As usual, its been photographed by Annie Leibovitz. As usual, the cover features a mixture of A-list talent (Natalie Portman), breakout stars (Ruth Negga) and a handful of filler attendees placed there solely to confuse anyone who sees the cover 20 years from now. And, as usual, the only instruction given to the cover stars appears to be: Youre bored, youre exhausted, youre getting a little bit cross and youre starting to need a wee.
However, inspect the cover and youll see a couple of things that distinguish it from all the others. The first is that, inexplicably, most of the actors have been made to wear clothes the same colour as the background. This means that, at first glance, all you see are a bunch of disembodied heads floating around, which is slightly disconcerting.
The second is Amy Adams. Oh, poor Amy Adams. In its unfolded newsstand form, the cover of the Vanity Fair Hollywood issue is dedicated to the four biggest guns. Theres Lupita Nyongo, best supporting actress winner in 2014. Theres Natalie Portman, best actress winner in 2011. Theres Emma Stone, nominated in 2015 and arguably the best actress frontrunner this year.
And then theres Amy Adams.
Shes the first thing your eye is drawn to. Shes tall so tall that she obscures the Y in Vanity Fair but also relaxed. Shes leaning back confidently, a look of wry amusement playing across her lips. She is literally the same shape as an Oscar statuette, for crying out loud. Here she is, the lauded star of two of the buzziest films of awards season, effortlessly outshining her award-winning peers. To look at her on the cover of Vanity Fair is to see a woman who knows how good she is. Shes already been nominated for five Oscars, and this is bound to be the year she finally seals the deal. Ive got this, shes thinking. Im a lock.
Amy Adams was not nominated for a single Oscar this year.
Clearly, this is an outrage. Amy Adams wasnt nominated for her stagey, imperious role in Nocturnal Animals. Worse still, she wasnt nominated for her empathetic, nuanced role in Arrival a blockbuster film thats taken almost $200m worldwide and (according to Rotten Tomatoes) was even more critically acclaimed than the beloved La La Land. Amy Adams didnt just deserve a nomination this year. She deserved a statuette.
Read more: https://www.theguardian.com/film/filmblog/2017/jan/27/vanity-fair-hollywood-issue-amy-adams-oscar-nomination