Sixtus Leung and Yau Wai-ching taken from their apartments and are to be charged with illegal assembly, according to their party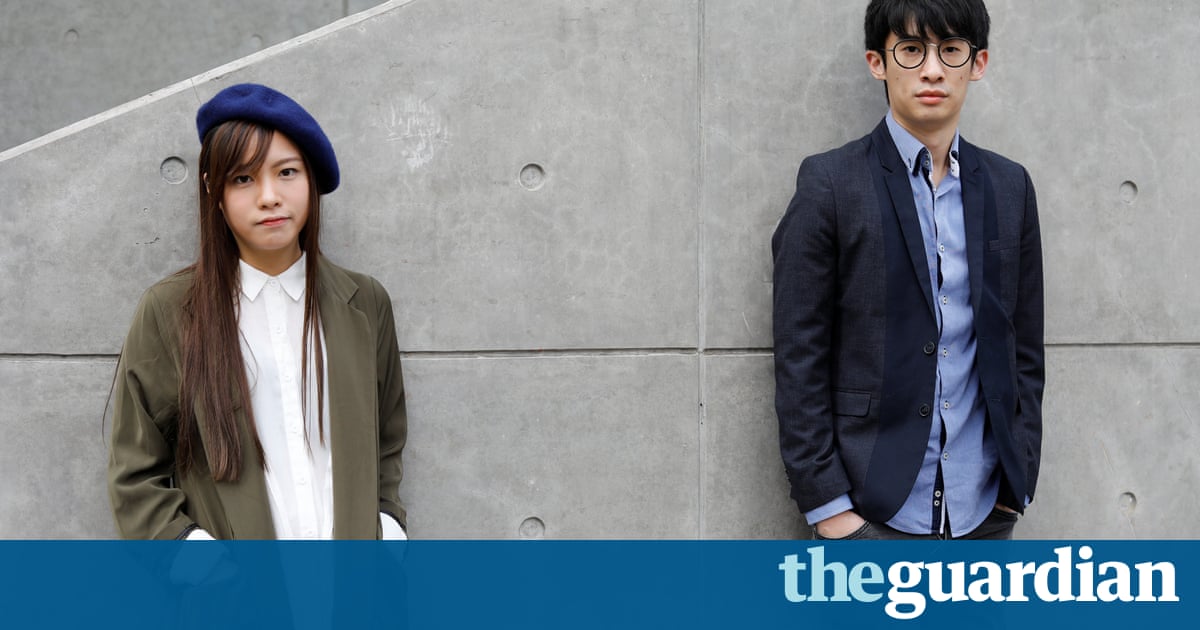 Hong Kong police have detained two former pro-independence lawmakers at their homes, amid a widening crackdown on dissenting voices in the former British colony.
The pair, Yau Wai-ching and Sixtus Baggio Leung, were disqualified from the citys legislature late last year after a dramatic anti-China protest during their swearing-in ceremony in October.
During that ceremony, Yau and Leung, who have both called for a complete split with mainland China, altered the text of their oaths, declaring allegiance to the Hong Kong nation. They also unfurled banners that said Hong Kong is not China and used an expletive to refer to China.
The protest enraged officials in Beijing and led Hong Kongs chief executive to launch an unprecedented legal challenge, seeking to remove the pair from office.
The two lawmakers were taken from their homes at 7am and are being interrogated over their attempt to retake their oaths, which were declared invalid.
That attempt saw the pair storm the legislative chambers and ended in scuffles with security guards, three of which were treated at hospital. Pro-Beijing lawmakers called the police for assistance at the time.
Yau confirmed her detention today in a Facebook post. The detentions were also confirmed by their political party. At least one of their assistants, as well as a few volunteers, were also detained by police.
The actions of the Chinese communist party and their puppets in Hong Kong are pure evil, the pairs political party Youngspiration said in a statement. Evil such as this deprives Hong Kong people of the freedom and democracy they cherish.
Hongkongers attempts to achieve the democratic autonomy guaranteed in the Sino-British Joint Declaration have been in vain, the statement added. We shall struggle against evil on the streets.
Police had moved them to several locations throughout the morning for questioning, Yau said. A police spokesman said he had no information on the case.
The two could face up to five years in jail if convicted under Hong Kongs public order ordinance, or a fine and three years in prison.
The interrogations come as Hong Kongs deeply unpopular outgoing leader, Leung Chun-ying, has taken unprecedented steps to quell dissent in the wake of a massive pro-democracy street protest in 2014.
Aside from ejecting Yau and Leung from office, Leung launched legal challenges against five additional pro-democracy lawmakers. Those cases have yet to be decided but one lawmaker, Nathan Law, quoted Gandhi and stated his opposition to the current president of the legislature at the end of his oath.
Law said of the detentions: The Hong Kong governments detention of the disqualified lawmakers shows the governments intention to move forward in liquidating the opposition camp and democratic forces.
Political conflict stemming from parliamentary disputes should be resolved within the legislative council.
Earlier this month, and just one day after Leungs successor was elected in a controversial election, police announced they would charge nine people involved in the 2014 democracy protests.
Two of those charged are lawmakers and any legislator jailed for more than a month could lose their seat.
Read more: https://www.theguardian.com/world/2017/apr/26/hong-kong-police-detain-pro-independence-lawmakers-after-china-protest